Rory Meyers Children's Adventure Garden
The Rory Meyers Children's Adventure Garden was designed to connect children with nature. Education is a central focus of our mission, which is why we are delighted to be able to teach life and Earth science to both school children and their teachers as well as families. Enjoy 8 acres of fun overlooking the beautiful White Rock Lake.
With over 150 individual kid friendly activities, the children's garden features The Texas Skywalk, The Moody Oasis, a Walk in the Clouds, and more. Find out why the Rory Meyers Children's Adventure Garden is the best family friendly attraction in Dallas.
---
Children's Adventure Garden Schedule and Activities
---
See all the galleries in the Children's Adventure Garden.
Click here for the Top 50 Reasons to Visit. Scroll down to see a list of daily activities.
The Children's Garden is funded with support from the City of Dallas and private and corporate donors. It was named by the family of Rory Meyers, a well-known civic leader, volunteer and longtime member of the Arboretum Board and Chair of the Education Committee.
Thea Award recipient for Outstanding Achievement as a Science/Discovery Garden
The Rory Meyers Children's Adventure Garden is certified as a Wildlife Habitat with the National Wildlife Federation
The Rory Meyers Children's Adventure Garden is certified as a Monarch Waystation
The Rory Meyers Children's Adventure Garden is a Texas Aquatic Science certified field site
---
Tickets and Reservations
Advance reservations to the Rory Meyers Children's Adventure Garden are strongly recommended and can be conveniently bundled with general garden admission.
For parking information, please see our Parking page.
---
Adventure Ambassadors
We are excited to announce a special opportunity for our biggest Children's Adventure Garden fans. Want to be the first to experience new programs and activities as they are developed?
The Adventure Ambassador Program is open to enthusiastic children between ages 8-14 eager to connect with nature and keen for opportunities to actively engage with our world. Ambassadors will play an integral role in selecting fun and exciting activities for the Children's Adventure Garden.
---
Children's Adventure Garden Café by Two Sisters
Children's Adventure Garden Café by Two Sisters is the perfect place to enjoy a quick meal with the whole family. Enjoy one of the many menu options while taking in the sites at the Rory Meyers Children's Adventure Garden and White Rock Lake. The Children's Adventure Garden Café offers both indoor and outdoor seating that can be accessed without admission to the Children's Adventure Garden. Open weekends from 10 a.m.-2 p.m. and weekdays from 11 a.m.-2 p.m.
---
Children's Adventure Garden Galleries
The Rory Meyers Children's Adventure Garden encompasses several galleries, each designed to be age-specific, but not age-restrictive. This amazing new garden sits on the hillside overlooking beautiful White Rock Lake. The spectacular view encourages children to take in the beauty of nature while unlocking its mysteries.
Passing through the main butterfly gates, you've entered the Children's Adventure Garden. Cool off in the timed fountains and get the first aerial view of the entire garden. A welcoming orientation area, our Entry Plaza is large enough to comfortably accommodate 200 people.
The Cascades
Click for More
Walk under a waterfall or look out from atop the magnificent cascades. The soothing sound of slowly falling water welcomes you into this serene area.
The Moody Oasis
Click for More
While it's a great place to take a break, this rooftop garden retreat also provides an important function; it insulates the building below and reduces our overall energy consumption.
When you're relaxing at The Moody Oasis, you'll enjoy a panoramic view of White Rock Lake. Be sure to look through the scopes at the many historic buildings and houses across the lake. You may even catch a glimpse of some of the wildlife that calls White Rock Lake home.
The Texas Skywalk
Click for More
This generous wood walkway curves through the treetops offering a bird's-eye view of life in the trees. Make sure you listen carefully so you don't miss unique birdcalls or insect sounds. Use the scopes on the skywalk to pick out nests and hopefully see other critters scamper about the Garden.
First Adventure
Click for More
This is your special garden. We know you like to touch, smell, build, crawl, splash and jump. You can do all of this in First Adventure. How many parts does the ant have? Do other insects have the same number of parts? Why does the bird's foot look different from the opossum's foot? Can you find their tracks along the sandbox wall? What animals besides chickens hatch from eggs? This garden presents lots of questions and provides lots of answers.
Petroglyph Walk
Click for More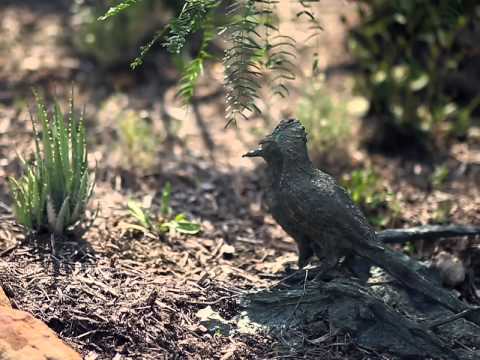 Inspired by Native American carvings, the Petroglyph Walk features large rocks with symbols and designs on them, depicting the special "engravings" used by ancient Americans to communicate important messages. Can you invent some ideas for carvings you might create?
Plants are Alive
Click for More
You know people are alive, but did you know that plants are alive and have parts that must work together to keep the plant well? Plants have different body parts just like you. Every part does something special to help the plant survive. Today you get to enter a world of giant plants to see how all the parts work. You may build a big flower puzzle, make your own growing plant pictures, or see how water moves thorough a healthy plant. Real plant parts sometimes look different, but they all work much the same way.
Kaleidoscope
Click for More
The Kaleidoscope gallery uses color, light and structure to demonstrate how nature influences art and architecture. There are patterns in nature that we can use to create art and solve math equations. You will find these patterns in sand, water and landscapes here, but will be challenged to use them in new and unique ways. Discover tessellations, fractals and patterns and create your own artistic designs on our touch screens.
Puppet Theatre in the Glade
Click for More
For ages, people have enjoyed stories told live on stage. Our puppet theater will engage guests with songs, dramatic characters and tales inspired by happenings in nature. The Glade is a natural space and provides the opportunity for visitors to take a seat and become part of the stories presented by our actors, puppeteers and celebrity guests. Find a seat and join the show!
T. Boone Pickens Pure Energy
Click for More
Note - this section is closed for minor repairs until further notice. Thanks for your understanding.
Here you will witness the transformation of water, solar and wind energy into electricity. Use interactive wind models and a variety of turbines to determine which machines are the most effective. Test wind speed using fun anemometers and step inside our wind machine to feel its power. Archimedes' screw and other machines will teach about harnessing the power of water.
Texas Native Wetlands
Click for More
Did you know that wetlands clean the water, provide habitats for many plants and animals, and help control flooding? They are a great resource for our state. The plants in our wetlands are all native Texas wetland plants. This gallery gives you the opportunity to walk on trails, over bridges, around the wetlands, and to see the plants and animals that make up large parts of our great state.
Walk in the Clouds
Click for More
Our version of a bounce house in the air, our very special, 32-foot fabricated tree lends itself to 'sky-walking' as you are suspended over the trail below. Walk in the Clouds allows kids to scurry about in safe, canopy netting. Pretend to be a squirrel or raccoon; crawl, walk or jump around the nets; and enjoy a view of the ground below. Brave the trees the way small animals do and feel the thrill of life high in the sky.
Here you will see how plants and animals live and thrive together in a woodland ecosystem. Walk the woodland trails and you will see that habitats provide shelter, space, food and water to the plants and animals that live there. As you pass the signs for habitat needs, look around at all the models and exhibits that show how people, plants and animals interact and how they adapt to changing environments. They might change their behavior or develop a new skill like climbing. The way they look might change over time. A change in their coloring could help them blend into their environment and avoid becoming prey.
Exploration Center and Plaza
Click for More
Our guests will learn so much from the interactive technology and special programs inside the Exploration Center, including teacher-led chemistry and biology labs. This innovative indoor space features a plant lab, smart tables, soil specimen workstations, CSI-style mysteries, and the signature OmniGlobe.
Located in the Globe Theatre, the five-foot-tall OmniGlobe is one of five in Texas and is the largest in the state. A touch-screen transforms the sphere into a high-tech model of the planets. View everything from weather events to population density on this striking machine.
Earth Cycles
Click for More
Learn all about the forces that affect our ever-changing planet. Earth's geology, weather and its place in space are all explored here. Inset in the pavement is a geologic timeline that tells the time periods from the prehistoric to today. You will also see illustrations of the fossils of organisms that lived during each of those time periods. Explore a cave or visit a station that simulates erosion. Get hands-on with your planet!
Living Cycles
Click for More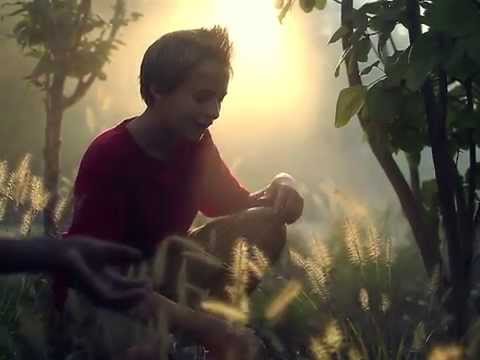 As you enter the Living Cycles Learning Gallery, the first thing you notice are the words inscribed in the stone pathway describing the life cycle of a plant. As you walk the circle, you will learn about how plants grow. Sit and enjoy some beautiful photography showing the fascinating life cycles of insects, birds and plants. Walk through the pollination zone to learn all the ways flowers have adapted to attract pollinators and their pollinators have adapted to reach the nectar inside flowers.
Walk on the Wild Side
Click for More
This exciting discovery trail is perfect for young explorers. Traverse the switchbacks and follow tracks left behind by forest friends. Can you guess which native animal may be just around the bend? Look for interactive clues and facts about the living things you could encounter in the wild.
The Amazing Secret Garden
Click for More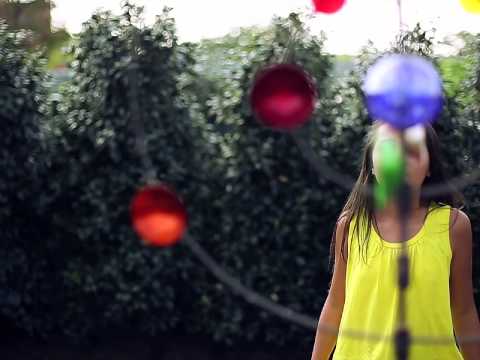 Follow a circular maze through winding paths of tall bushes. Read cardinal directions, find cryptic clues and peek through periscopes in order to figure out which way to go in this secret garden. You'll encounter whisper tubes, periscopes, a floating granite ball and dance chimes along your path. The castle's flag is in the middle of the garden, but beware of the dragons' breath as you pass through a row of menacing statues. You may even find some paths have changed since you began your adventure.
Orchard & Vineyard
Click for More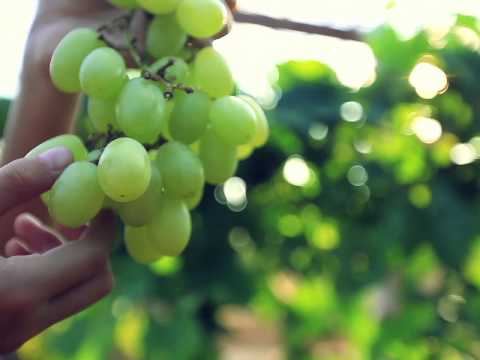 Vines have evolved to climb toward the life-giving sun. The vines in this garden are planted on posts and run along cables that support their growth. Look closely at the trees, vines and bushes around you. Are any of the plants flowering? Did you know those flowers will eventually become fruit? Enjoy witnessing the entire life cycle of climbing and food-producing plants here.
The Incredible Edible Garden
Click for More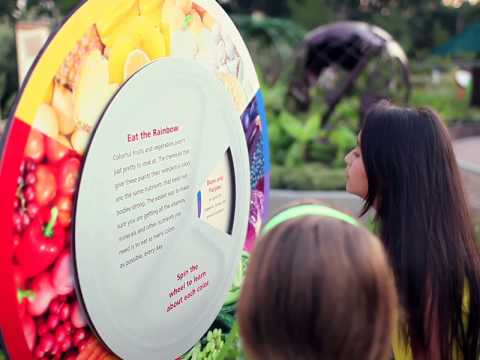 Everything that is alive must eat, and the choices we make about what we eat keep us healthy, strong and smart. From ancient times to today, man has gotten food from plants. Did you have cereal at breakfast today? It came from a plant. Bananas and fruit juice come from plants, too. Bread is most often made from a plant called wheat. The vegetables on your plate and your chocolate dessert were grown for you to eat. Stroll through The Incredible Edible Garden and learn about the value plants provide to our health.